A Brief History of Staplehurst Transits
Staplehurst Transits today is far beyond any vision that founder and now present managing director Colin Goldup could have seen back in 1973. With the business taking its name from a local village in Kent and Colin's first commercial vehicle a 35 cwt Luton transit. Placing his first advert locally for work as man and van, work slowly came in from household removals one day to shop deliveries of fresh produce the next.
In 1974 Colin brought his first lorry a TK Bedford which he put straight to work, sometimes he would attach a box for house removals. Following this a contract was offered by a bakery company, the work involved collecting product from North London each evening for delivery to their depot in Hampshire and then on to their other depot in Kent. Over the next few years the workload increases with three rigid box vehicles were used to service the bakery contract.
Around this period Staplehurst Transits started carrying scaffolding for Scaffolding Great Britain with two rigid flatbed vehicles. While transporting equipment to and from trade customers. Staplehurst Transits also could be often seen delivery scaffolding to the construction of the bridges along the M26.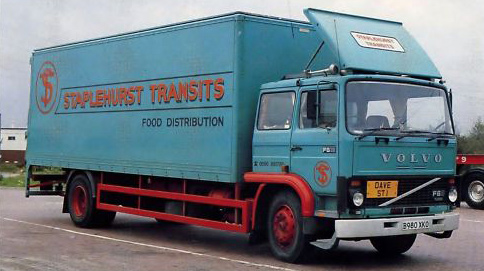 In 1983 one of the largest local fruit transport companies Mitchell and Robertson decided to sell their vehicles and rent out their Marden based depot. With local farmers wanting their fruit transported across the country, Colin realised there was a gap in the market and decided to rent part of the site. A decade later and after pestering the landlord time and time again he was able to buy the site.
One of the first jobs was to invest the income of selling the old site in Staplehurst to enlarge the warehouse by 50% and build a purpose built workshop.
2013 saw the start of another extension to the warehouse, office areas and a new purpose built workshop. With 6 new loading bays and intake office our state of the art warehouse can provide a quick turnaround of any lorries. With a cross docking area running at +10oC for same day distribution and cold stores to keep stock at its freshest ready for future distribution.
With all the problems that go along with fruit distribution the company is proud of the fact it finds time to support the local area since 1973 the fleet played a large part in the village carnivals and provided a cup to be presented each year to the best children's float. Most years we provide transport of camping equipment for the local Brownies, Guides, Cubs and Scouts to their annual summer camps.
We also help local charities with the use of a trailer for a stage to help raise money for the Kent Air Ambulance and Demelza House children's hospice. Our only real taste of fame was when we were asked by BBC2 to help with a children's television programme Come Outside, our vehicle and driver are often seen in the regular repeats of the episode Apples. You can see the TV show by visiting https://youtu.be/M7tYI2XLYxM
Staplehurst Transits attend half a dozen truck shows up and down the country each year. Along with the first TK that joined the company way back in 1974, other vehicles from the fleet represent the company against some of the countries cleanest and most stunning trucks. Over the past few years Staplehurst Transits have won several trophies ranging from first place in the best kept fleet to first place best classic and vintage vehicle.